Testimonials
It's been a pet peeve of mine for a long time now that I've not been able to find a house...
Ann Kelly
Our home stands transformed after the gentle care and effort that Catford Cleaning put in....
Damien S.
With all of the different cleaning services out there, it can be tough to find the one which...
Ashley M.
I want to thank Catford-Cleaners for everything they did for me. I was in a bad position,...
Bradley K.
It may sound strange but they actually feel like a part of the family now! Catford-Cleaners...
Sheryl
I was put off professional cleaners in the past because I always thought that they'd cost too...
Andrew T.
I've always wanted to try a cleaner out to see what the big fuss was about. I decided on...
Jade Watson
Leaving a dirty kitchen behind when I go to work and then coming home to all the mess in the...
Callum M.
I have always loved collecting things and so my home is adorned with various antiques, from...
Lillian Cooper
I love cleaning around the house and sometimes I just don't have time, so whenever I am...
Dawn N.
DIY VS Professional Agencies For Deep Cleaning
21

Mar 2014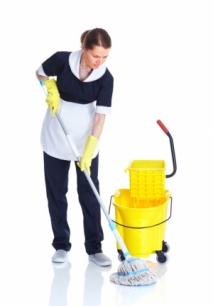 Every so often there comes a point where our homes or workplace is in need of a deep and thorough clean. This is not because of lack of effort but mainly due to the accumulation of dirt and grime which tends to gather in those hidden areas and gets missed when doing the general household chores. When it comes to giving a property a deep clean you have two options, a) you could simply do it yourself or B) you could hire the services of a professional cleaning agency to do it for you and some people may even use a combination of both of those methods to get the best results for the least amount of time and money spent.Let's explore DIY cleaning compared to cleaning contractors. General chores!(General chores include normal household duties such as dusting, hovering, polishing, wiping and washing down.)This can be performed by either the tenant or a cleaning company successfully and there is no difference between the two. Because general chores bares no preference so it may as well be done by the tenant as it is more than likely going to be cheaper to do so. However, if you have a heavy work schedule and are stuck for time to do these general day to day jobs at home, a cleaning company could be very beneficial to you as its better to hire than to not have it done at all.Conclusion, we'd say General Chores goes to the DIY Cleaner (unless you are too busy to do it!) Upholstery cleaning!(Upholstery cleaning includes all fabrics and materials that cannot fit into a washing machine, such as carpets, rugs, large curtains, sofas and padded chairs.) This can be performed by anyone at home who may have a steam cleaner or whose items don't need that much attention as the marks are only slight. It's not worth investing in a steam cleaner if you do not intend to use it much, as this would be a complete waste of money. Also trying to accomplish the massive job of cleaning a large carpet can be quite extensive and not necessarily effective.Therefore we conclude that agency cleaners are better for this task! They have the correct equipment and can perform the task much quicker and with better results.Walls!No need to hire cleaners to wipe down walls, if all else fails you cannot beat a fresh coat of paint, job done! (If you do not have the time to paint, hire a decorator for quick job as it doesn't cost much to do so these days.)Flooring!Flooring is a tricky one; it depends on what the material of the floor actually is and how big the surface area is.For instance a kitchen floor at home, regardless of material is easily cleaned and for stubborn stains, bleach may just do the trick. However, if the flooring is a large office it may be worth hiring in professional office floor cleaners who will not only clean the floor but will be able to polish and buff it too. The results of this service is often astonishing, resembling a newly laid floor at times. We conclude that both DIY and Pro cleaners are good for floors but it depends on the circumstances.Conclusion!There are benefits from both sides when it comes to cleaning; sometimes it may be worth hiring in some help whereas other times the job in need is manageable to be accomplished without it. Every circumstance is different but the most effective method you should aim to seek is the one that offers the best look for the best price which is why choosing both options may be beneficial.
You may also like: