Testimonials
It's been a pet peeve of mine for a long time now that I've not been able to find a house...
Ann Kelly
Our home stands transformed after the gentle care and effort that Catford Cleaning put in....
Damien S.
With all of the different cleaning services out there, it can be tough to find the one which...
Ashley M.
I want to thank Catford-Cleaners for everything they did for me. I was in a bad position,...
Bradley K.
It may sound strange but they actually feel like a part of the family now! Catford-Cleaners...
Sheryl
I was put off professional cleaners in the past because I always thought that they'd cost too...
Andrew T.
I've always wanted to try a cleaner out to see what the big fuss was about. I decided on...
Jade Watson
Leaving a dirty kitchen behind when I go to work and then coming home to all the mess in the...
Callum M.
I have always loved collecting things and so my home is adorned with various antiques, from...
Lillian Cooper
I love cleaning around the house and sometimes I just don't have time, so whenever I am...
Dawn N.
Spring Cleaning For Your Office
16

Dec 2014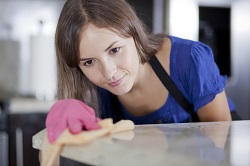 The holiday season is the peak time for your business but this also means that the high foot traffic you get is going to leave your work place dirtier than usual. Not only have people been treading in dirt and slush all over your floors, they have also been leaving behind copious amounts of salt and snow which can be very damaging to your carpet. Spring cleaning is a good time to get around to doing those bits of cleaning chores around your office that you have been putting off for the whole season. Here are some things you must keep in your mind when organizing a large scale office cleaning.1. De-clutterOver the last year, you and your employees will have gathered a lot of paper and other items on and around your workplace. The spring cleaning is as good a time as any to sort through your stuff and keep what you will need and throw away the rest. Leaving things lying around is only giving more surfaces for dust to settle on. So reduce your workload and shred or throw away what you don't need. If you have extra furniture lying around the office, put them away in storage until needed so that you have more space to work in. 2. Carpet cleaningWhether you have rugs in the sitting area or a wall to wall carpeting, your carpets will get heavily soiled during the winters. Not to mention the occasional spill that might occur from the printer or a coffee mug. The dirt, snow and salt that people tread in can be harmful for your carpet in the long run so it is needs something more than daily vacuuming. Give your carpets a thorough clean by shampooing or steam cleaning them. Not only will that make your carpets clean, bright and soft again, it will also leave your office smelling great after a less ventilated winter. Also, it might be a good idea to ask the carpet cleaners to apply a protective coating on the carpet. An anti-stain guard protects your carpets from stains and natural wear and tear, thus increasing the longevity of the carpets. 3. Floor cleaningJust like your carpet, your floor has also become dirty and is in dire need of a deep clean. The way you clean your floors depends a lot on the kind of material it is made of. Hardwood floors are more difficult to clean than tiles or stone, but there are many professional cleaners who are trained in doing that without costing you a lot of money. Besides your regular floor cleaning routine involving sweeping, vacuuming and moping, you might also opt for the occasional waxing or buffing to renew the shine on your floors and give them a better polish. 4. Window cleaningNow that the dull and dreary winter is over, your office could do with more sunlight. But the rain and snow has left your windows spotted and dirty. Invest in a good cleaning company to wash your windows and make them squeaky clean again. A clear window will definitely brighten your space and mood and help increase productivity. A thorough spring cleaning will give your office a makeover from the dullness that had settled in over winter. A clean and shiny office does not only feel great to work in but also creates a good impression on prospective clients.
You may also like: