Testimonials
It's been a pet peeve of mine for a long time now that I've not been able to find a house...
Ann Kelly
Our home stands transformed after the gentle care and effort that Catford Cleaning put in....
Damien S.
With all of the different cleaning services out there, it can be tough to find the one which...
Ashley M.
I want to thank Catford-Cleaners for everything they did for me. I was in a bad position,...
Bradley K.
It may sound strange but they actually feel like a part of the family now! Catford-Cleaners...
Sheryl
I was put off professional cleaners in the past because I always thought that they'd cost too...
Andrew T.
I've always wanted to try a cleaner out to see what the big fuss was about. I decided on...
Jade Watson
Leaving a dirty kitchen behind when I go to work and then coming home to all the mess in the...
Callum M.
I have always loved collecting things and so my home is adorned with various antiques, from...
Lillian Cooper
I love cleaning around the house and sometimes I just don't have time, so whenever I am...
Dawn N.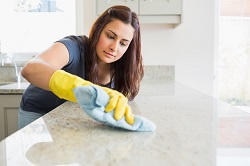 No matter how careful you try to be, spillages do happen, and if you don't use the correct techniques to clean your upholstery, it could cause a lot of damage to your fabric.
1. Act fast.
When spillages happen, time is of the essence and you have to act rather quickly in order to get the best results. You don't want the spill to seep into your fabric and result in a deeply set stain. It's important that you blot at the affected area. The key word here is blot, not rub because you certainly don't want to rub the stain further into the material. Blot around the edges of the stain and work your way into the middle. Keep blotting until you get rid of as much of the stain as you can which will lessen the spread of the stain and will make it easier to clean later on.

2. Vacuum clean.
Your vacuum cleaner is possibly one of the most important items of cleaning equipment in your house. It can be used for a quick and effective way to tackle a range of different house cleaning jobs, so it's essential that you take proper care of your vacuum cleaner. If you've got a relatively old vacuum cleaner, you should definitely think about updating it and getting a new one. Nowadays, vacuum cleaners come with many different types of attachments, including small attachments that are perfect for upholstery cleaning and sofa cleaning. When you begin to clean, pull your upholstery material tight, which will make the process a great deal easier. But be vigilant. If you notice any stains or marks on your upholstery, get them sorted first before you vacuum clean.

3. Remove stains.
Once you've blotted at stains, you need to remove them. There are plenty of ways that you could choose to do this. You could use household products such as baking soda, or you could purchase powders or stain removal creams; all will do the job, but results may differ, so try out a few different techniques. Powders are generally the best option to go for, because you won't have to spend time waiting for the area to dry. Whichever product or technique you choose to implement, be sure to test it on a small part of your upholstery first, before you go applying it to the stained area. Keep an eye out for any discolouration. If it's not reacting well with the upholstery material, then toss it aside and try out a new product. Store-brought stain removal products should do the job nine times out of ten, but if not, you can always call in the experts and hire a team of professional cleaners, as they'll certainly know what to do.

4. Giving your upholstery a general clean.
Use a soft microfiber cloth to gently wipe the material with some mild laundry detergent. Alternatively, wiping the material with baby wipes will also do the trick and will eliminate the risk of you saturating the material. When you've finished wiping, let the material dry naturally or open a nearby window to speed up the drying process.

5. Eliminate odours.
Although you may have cleaned up the dirt or stain on your upholstery, there may still be an unpleasant odour lingering around. A sprinkle of baking soda will work wonders; sprinkle onto the affected area, leave for an hour or so, and then wipe or vacuum away.

6. Book the services of a professional cleaning company.
If you've tried everything possible to remove a stain or clean up your upholstery but have had little success, book an upholstery cleaning service.


You may also like: