Testimonials
It's been a pet peeve of mine for a long time now that I've not been able to find a house...
Ann Kelly
Our home stands transformed after the gentle care and effort that Catford Cleaning put in....
Damien S.
With all of the different cleaning services out there, it can be tough to find the one which...
Ashley M.
I want to thank Catford-Cleaners for everything they did for me. I was in a bad position,...
Bradley K.
It may sound strange but they actually feel like a part of the family now! Catford-Cleaners...
Sheryl
I was put off professional cleaners in the past because I always thought that they'd cost too...
Andrew T.
I've always wanted to try a cleaner out to see what the big fuss was about. I decided on...
Jade Watson
Leaving a dirty kitchen behind when I go to work and then coming home to all the mess in the...
Callum M.
I have always loved collecting things and so my home is adorned with various antiques, from...
Lillian Cooper
I love cleaning around the house and sometimes I just don't have time, so whenever I am...
Dawn N.
Worried About Your Deposit? Our SE6 End of Tenancy Cleaning Catford is What You Need!
We all reach that inevitable point at some point during our time in rented space. Whether it is a house, a flat, or an office, you know you aren't going to be able to stay there forever and sooner or later you are going to move on. There is plenty to be excited but there is always one elephant in the room and that is your deposit. Even the most kind hearted and benevolent landlord is going to want to keep it, but obviously you would like it back in your pocket, so if you are moving out of a rented space in Catford, give the Catford end of tenancy cleaning specialists Catford Cleaners a call on

.
As with all our SE6 end of lease cleaning services this process starts with a free quote. It's a no obligation process and is available at a time to suit you as you would expect from London's leading cleaning company. You also have the security of knowing that no matter what else we might find after that quote, our price doesn't change. We believe that the most thorough quote possible leads to the best results; our Catford cleaning teams don't have any nasty surprises and you have the security of budgeting for a quote which is the exact number that you will pay, no more and no less.
Our SE6 Cleaning Company Use Professional Cleaning Equipment Only
On the day itself the process couldn't be simpler. When you move out, we move in, with our high quality and professional cleaning equipment. Chances are that by the time your landlord comes into their property in SE6 or SE26 they won't believe how clean it is. In fact, we have had feedback from plenty of customers saying they felt that the apartment, home or office that had been cleaned was in better condition when they left than when they moved in!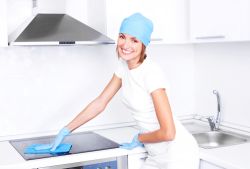 But what is it that makes us the leading choice for cleaning at the end of tenancy Catford and the rest of London. We believe it is a combination. Firstly, we have invested heavily in the most up to date cleaning equipment and products, using powerful but gentle techniques to ensure that there is no damage done to surfaces which require a more gentle touch. But if you have a glance through our testimonials you will see that there is a recurring theme there which is nothing to do with either our equipment or our products.
Book Professional End of Tenancy Cleaning in Catford
We have made our name through the quality of customer service that we provide, and our famous flexibility. Whenever you need us, whether you want our help on moving day itself to get it out of the way or you would prefer for us to come in a little bit later on so that you don't have too much going on at once, just name the time and the date and we will be there for the quickest, most thorough cleaning service SE6 in the capital.
So whatever your end of tenancy cleaning needs, whether you are leaving a bedsit for one or a large office, Catford Cleaners is here to help. If you want to arrange anything, or would just like a little bit more information about this or any other cleaning services SE26 available simply pick up the phone and call our friendly customer services team on

. They will be happy to help you with whatever you need!